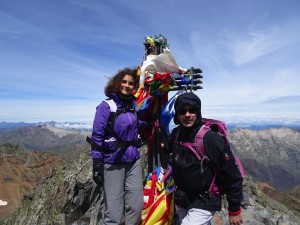 About 2 years ago, I promised Judit that someday we would go hiking with a tent. The initial idea was to cross from la Vall de Núria to Carança through the Nou Creus summit. But realizing that Judit is going to University next year, I thought it was better to do something more exciting and I suggested to hike la Pica d'Estats. At 3,143 metres altitude, Pica d'Estats is the highest mountain in the Catalan Pyrenees and one of the most iconic climbs for Catalan mountaineers.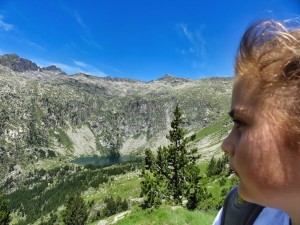 Aquestes vacances, hem anat a passar uns dies a la Vall de Boí. Si hi ha una cosa que s'ha de fer, si o si quan estàs a la Vall de Boí és pujar a Aigüestortes.
El Portarró d'Espot és el coll de muntanya que uneix la vall de l'Estany de Sant Maurici amb la vall d'Aigüestortes per l'estany llong.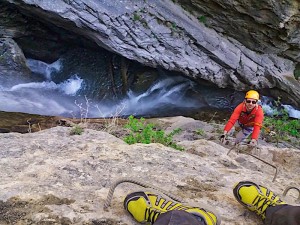 La via ferrata de la Farinetta a Saillon, prop de Martigny és una via espectacular, i si es vol fer tota, és de les més difícils que he fet fins ara.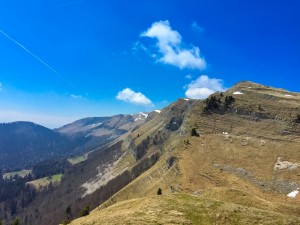 Today I needed to go out for a walk, ... for some time, I had a fixation to climb the summit close the Faucille. Checking the maps, I've learned that it's called Petit-Montrond, and decided to continue the crest and climb the Montrond, and the Grand Montrond. Just after the Grand Montrond there is a geodesic point that is where is finished my hike the day I've climb the
Reculet
. So challenge will be to have hiked from "Col de la Faucille" to the Reculet.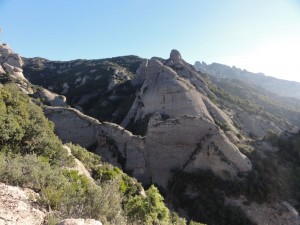 Com ja va sent tradició, pels volts de Nadal, amb en Jaume ens hem aventurat a fer la Canal Roja de Montserrat. Una col·lección de rappels força llargs entre mig de una canal estreta i humida.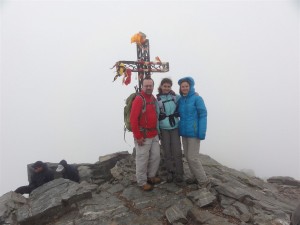 Aquest estiu aprofitant que estàvem per la Cerdanya per dur la Núria de campaments, la Judit, la Gemma i jo, vàrem aprofitar per pasar uns dies a Vilafranca de Conflent, i una de les excursions que toca fer quan estem per la contrada, es el Canigó. És una muntanya mítica, i això vol dir que hi ha molta gent, i en el meu cas, vol dir que com sempre que l'he fet, l'he fet amb boira.
This weekend, we hiked the Puigpedros with the people from Gels.
On the weekend of the 12th of July, together with Jaume, Neus and Narcis, we wanted to hike from Núria to Carança but due to the bad weather, we decided to simply hike to the summit and return. The initial idea was to go up the Puigmal but as the excursion is long and a storm had been forcasted, we decided against it. Instead, we decided to hike up Finestrelles. When we arrived back at the Vall of Núria we realised we had lost the last the train, and as if we hadn't hiked enough, we were forced to walk all the way back to Queralbs, and ended up walking for 11 hours.
At the Vall de Travers, in the canton of Neuchâtel, we find a singular circ formation named the 'Creux de Van'. We were lucky enough to find a family of mountain goats - they were calmly grazing at our side as we were gaining altitude. The sights from the superior part of the circ are scary and it is rather annoying to see someone on a mountain bike or a stroller for children right next to you, right after your exhausing walk... but of course, they took the road to get here...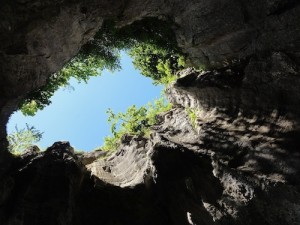 Just in front of Geneva, we have Le
Grand Salève
. The mountain is not very tall, but it does have a very vertical facade. In the superior part of this facade, there is an aerial passage that almost goes through the rock - it is the
Corraterie.
From the Corraterie we can see the
Trou de la Tine
, an impressive rocky formation, which seems, from far, an immensive cave, a hole in the wall but when you are inside you see there is no ceiling. Following the path a little more, we cross the
Grotte d'Orjobet,
a cave that is adapted with stairs that allow you to climb from 'Le Coin' until the Corraterie. The excursion is very aerial, with impressive views of the Montblanc, the region of Geneva and the Jura.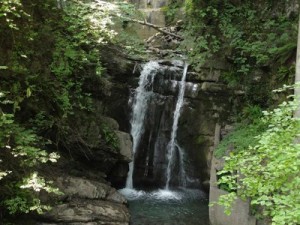 It wouldn't cross your mind, that from the centre of Montreux, and passing beneath the bridges of the highway, there are gorgues like the 'Gorges du Chauderon'. It is an easy walk, but with strong vertical slope. The path is very walkable, it is full of stairs to help us with the ascencion. The change of vegetation changes a lot from the bottom part that reaches Montreux where it seems more like a tropical forest, and the top part is more typically swiss.
If you feel like taking a walk after lunch at Saint-Cergue.. there is a walk you can take, called 'le sentier Ballade à Béatrix'. It is welll indicated, with 16 points of information. It starts with a little steeply, but the forest is very pleasant, the views from the old castle are impressive, the invisible ruins, and it goes through a series of rocky formations with interesting caves.