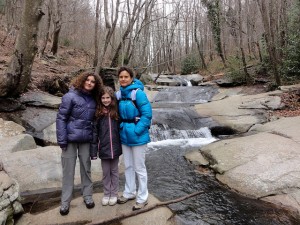 El Panta de Santa Fe del Montseny is one of the first natural parks I have ever visited. The walk was very calm - the greatest risk would involve getting angry at a tourist who thinks the mountain is an amusement park, or a space where everyone can have a barbecue without any sort of consideration or respect for the environment.
We arrived when there was still some space for us to park our car at the parking lot. It was a cloudy day and it was cold, which was why we decided to have a brief walk. We had work to do, and little interest in feeling cold.
The walk wasn't much more than an hour of stopping to take pictures at each flower sighted...
When we arrived at the parking lot, it was a total mess. Very chaotic, almost like the exit of a football stadium.
A recommended walk. If the weather happens to be nice, take advantage of it and make the excursion longer!