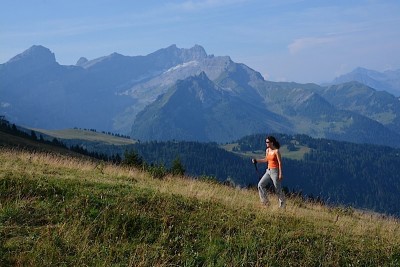 We start our journey in Gryon, we take the cable car that will bring us to "Les Chaux" where we will start our hike by walking along the blue ski slope that brings to the "Chaux Ronde".
Quite soon we will be able to see the "Miroir d'Argentine" at our right, the start of the mountain group that becomes the Diablerets Glacier behind the Chaux Ronde, and the sky slopes of Villars with Roc d'Orsai at our left… a bit far on the horizon we can also easily identify Leysin mountains.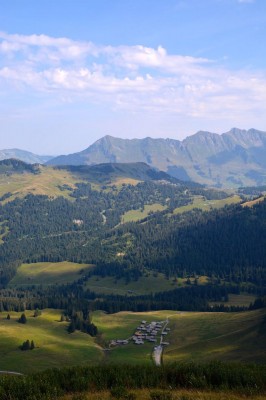 The hike to the Chaux-Ronde summit is quite easy, nevertheless is the blue ski slope, you only need a bit of patience and you get there. But things change once you get to the summit. There is very narrow trail tracing the crest.
The trail is not suitable for people suffering from dizziness, it's not the narrowest, neither the one with the biggest hole I've crossed, but in a windy day and with a large backpack you can end up at the end of the valley.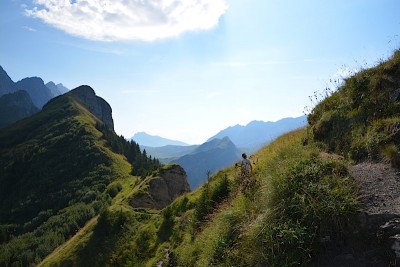 The reward to your courage will be the impressive views of the "Miroir d'Argentine" and the Anzeindaz pastures. You can easily see the mountain huts and the path we hiked only a couple of days back.
The highest point it in this trail it does not have a name, is an small summit on the "Rochers du Van" at 2085m (6840feet) of altitude.
The descendent trail to Taveyanne is quite upright (or downright), starts with alpine vegetation, to become a pasture until we enter the forest to become a pasture again when we reach the village. The path is slippery due to the soil and humidity.
From Taveyanne we can return to the cablecar by the 4x4 track in about 30 minutes, or you can walk down to Gryon by the forest in about 1 hour an a half.