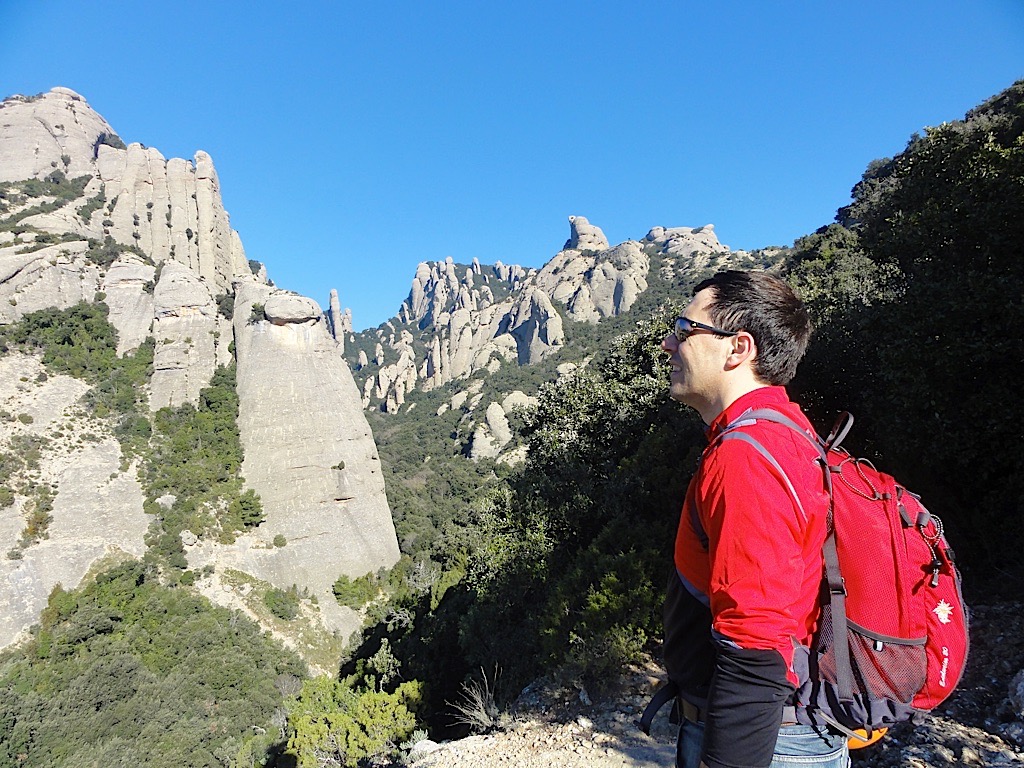 Caution
: This excusion is quite easy but it is required to bring all the neccessary material and it is important to know how to rappel, and know how to set them up. The type of gear neccessary includes a rock-climbing rope - in our case, we used a 70 m one. Rappels aren't usually this long, but it was the only rope we had. It is also important to bring a Harness, carabiners, and your favourite rappel device. It is recommended to bring several slings, carabiners and gloves.
The excursion begins in can Jorba. I tried to put the exact point on the map, its not difficult to find, but is not well indicated.
From Can Jorba, we follow the trail until we reach a shortcut that invites us to climb, as the path is a rather strong uphill. I did it in summer and winter and I recommend you do it in the winter, as it is too hot in the summer. The way up is about 45 minutes long if walking at a good pace.
Once we are there, we follow the downhill canal. At first it looks like a dry river with sand and beach stones that remind us that Montserrat emerged from the depths of the sea. Gradually, the inclination becomes steeper, and we find some rocks we have to jump over, and some we have to acrobatically descend - be careful, especially if the rocks are wet, as they are rather slippery.
The first rappel is easy to see, it is under a tree. There is a rope through which climbers return from their long tracks. I do not recommend descending using the rope unless you have a lot of experience and arm strength. For the climbers, it is easy and probably more than one group will overtake you, perhaps even without any sort of rope. It is important to remember your level of experience and think about security first.
The path is quite entertaining, with impressive views. There is a rappel that involves passing through a cave ... if you have claustrophobia, you can mount the rappel from the side.
Highly recommended to burn turrons for Christmas.