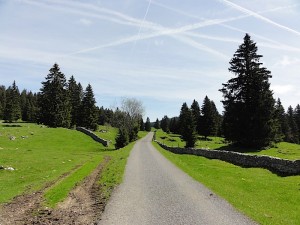 This weekend we went on a small excursion to the Col de la Givrine. The Col de la Givrine is situated above Saint-Cergue before arriving at the border between la Cure (Switzerland) and France. Surprisingly, the majority of the path is paved.. Next time we will take our bike instead.
The path is slightly uphill, and it is very well signaled, and is surrounded by many other paths which inspire us for future excursions.
Here, during the winter season, we can find people snowshoeing, or cross-country skiing, and even riding on dog sledges.
In the summer we find people riding their bicycles and most of all, a lot of people in the mountain restaurants to taste the typical swiss cuisine.