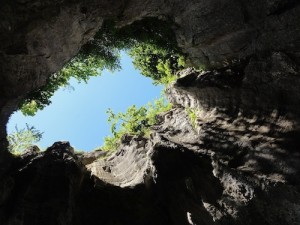 Just in front of Geneva, we have Le
Grand Salève
. The mountain is not very tall, but it does have a very vertical facade. In the superior part of this facade, there is an aerial passage that almost goes through the rock - it is the
Corraterie.
From the Corraterie we can see the
Trou de la Tine
, an impressive rocky formation, which seems, from far, an immensive cave, a hole in the wall but when you are inside you see there is no ceiling. Following the path a little more, we cross the
Grotte d'Orjobet,
a cave that is adapted with stairs that allow you to climb from 'Le Coin' until the Corraterie. The excursion is very aerial, with impressive views of the Montblanc, the region of Geneva and the Jura.